For 35 years, Saxon Furniture have been hand-crafting and retailing the UK's finest furniture.
We caught up with Production Director, Paul Douglas, to talk about the role their Apprenticeship scheme with NLTG (North Lancs Training Group) has had in their business, while also chatting to Apprentices Courtney and Louis about their experiences.
Commented Paul:
"We're manufacturers of approximately 200 pieces of high quality upholstered furniture a week and as Director, I am in charge of all the manufacturing operations here on site at Saxon Furniture.
The apprentices that we take on in conjunction with NLTG are mainly centered on the upholstery side of the business; that's our forte and that's where we need the staff. We see our Apprenticeship scheme with NLTG to be absolutely paramount as it's increasingly difficult to find skilled upholsterers.
We've had over 60 people through NLTG's Apprenticeship scheme and out of those, 85% have gone on to work for our company.
We have some upholsterers here that have gone through the Apprenticeship scheme many, many years ago and they make some of our bespoke furniture. When they finish it, you still see the same glint in their eyes as the Apprentice when they make their first piece of furniture."
On the success of the Apprenticeship scheme, Paul added:
"Due to the success that we have had with NLTG, we're looking at rolling out the programme over some of our other departments – we've also highlighted one or two of our current Apprentices that we think would be able to go onto the North Lancs Junior Training Programme for Managers."
Courtney McMenemy, Apprentice Upholsterer, said:
"I would definitely recommend Apprenticeships and what's good is that they are suitable for people of all ages.
When you make furniture from scratch, it is very interesting to see it all coming together from the start. You can go out and do other jobs and then suddenly you see your own work there and it's like, wow, I made that."
Louis Page-Laycock, Apprentice Upholsterer, said:
"What I would say to anyone thinking about being an Apprentice is to go for it and work hard at it. It's rewarding, it pays off and is a good alternative to other routes of education, plus you're getting paid for doing it.
I actually completed education at University and got a degree. I started applying for jobs, but my heart wasn't really in it and I knew I wanted to have a trade and work with my hands.
I decided to look at North Lancs Training Group and found this Apprenticeship. I thought it was a lot more me and what I wanted to do with my career and I'm so glad I did it."
You can learn even more about NLTG Apprenticeships here www.nltg.co.uk/apprenticeships and view our current vacancies – including those at Saxon Furniture – here www.nltg.co.uk/apprenticeship-vacancies/
Alternatively, give us a call on 01254 395355.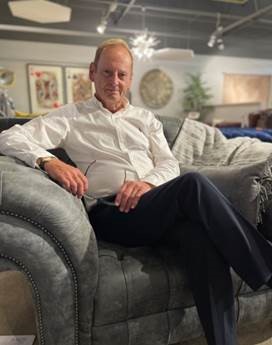 Saxon Furniture Production Director, Paul Douglas