Apprenticeship Support and Knowledge in Schools
Funded by the Education and Skills Funding Agency

GMLPN are offering a range of inspirational and engaging impartial Apprenticeship information and support to all schools, colleges and NEET providers in Greater Manchester for students in years 10, 11, 12 and 13. The aim of the Apprenticeship Support and Knowledge for Schools (ASK) programme is to support educational establishments to deliver high-quality information, advice and guidance (IAG) to their students on apprenticeships and traineeships.
We're now taking bookings for activities delivered through the ASK Programme for the 2021-22 academic year. A summary of the offer can be found in the attached brochure. 
GMLPN alongside the ASK Programme have developed a Find An Apprenticeship Tool, which you can find here.
If you would like GMLPN to deliver a session, please contact matthew.l@gmlpn.co.uk | 07530 075 650
Discover the full range of support options open to you through the Apprenticeship Support and Knowledge for schools and colleges (ASK) programme: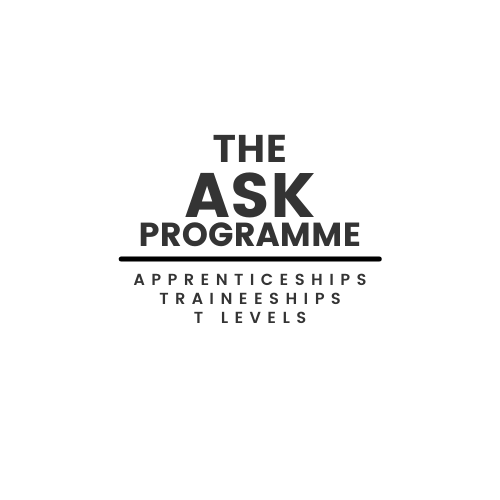 Apprenticeship Presentations and Awareness Assemblies
Provides an overview of apprenticeships and traineeships for students and highlights where to find apprenticeship
This can also be provided as pre-recorded presentation
Registration and Application Workshops
Interactive Workshops
Online, bespoke, practical support sessions for students to enable them to navigate the recruitment process
Mock Assessment Centre Workshops
This session for students explores recruitment methods that may be expected of them at an assessment centre
Bespoke Support
Similar to the virtual workshops, these small group sessions support students to search and apply for apprenticeship vacancies
Careers Fairs
Supporting a stand face to face or virtually to provide information about apprenticeships
Teacher and Career Advisor Training and Development
Provides an overview of apprenticeships for teachers and careers advisors
Parent and Carers Support
Support and strand and/or deliver an overview presentation face to face or virtually
From September 2020 to July 2021
Apprenticeship Ambassadors
Where possible we will bring along an apprentice ambassador for all of the sessions described above to share their personal apprenticeship experiences
Interested in booking an ASK session for your school, college or NEET organisation, or want o find out more? Get in touch and a member of the team will get in touch!

"Matt from the ASK Programme came into our school to live broadcast their session to all Year 11 forms. We used Google Meets (a programme on Gmail) to stream live into every classroom via the whiteboards. We wanted it to be live as we felt strongly that it would have more impact and also the person delivering it is the expert. After speaking to staff and students alike afterwards they all agreed it was really useful, especially at this early stage in the academic year and that it was useful to inform them of this as they're all currently having their Career appointments."