The inaugural North West Apprenticeship Awards were a celebration of the best and brightest learners as well as the people who help them to succeed. The awards ceremony on Thursday 9th February was an opportunity to celebrate the North West's brightest talent and celebrate the region's future.
GMLPN win 'SME Employer of the Year'
Established in 2001, the Greater Manchester Learning Provider Network (GMLPN) is a network of over 110 members including, Independent Training Providers, FE Colleges, Community Voluntary Organisations, Universities and key suppliers and other stakeholders. They work alongside key partners and local authorities to achieve an ever-closer alignment between the needs of employers, individuals, communities and the suppliers of skills.
The judges highlighted GMLPN's dedication to promoting apprenticeships and the benefits they can bring to learners and employers, the work GMLPN do to increase inclusivity through the Supporting Autistic Individuals into Apprenticeships Project and GMLPN's Provider Support Programme for training providers which helps to ensure that their courses are of the highest quality possible.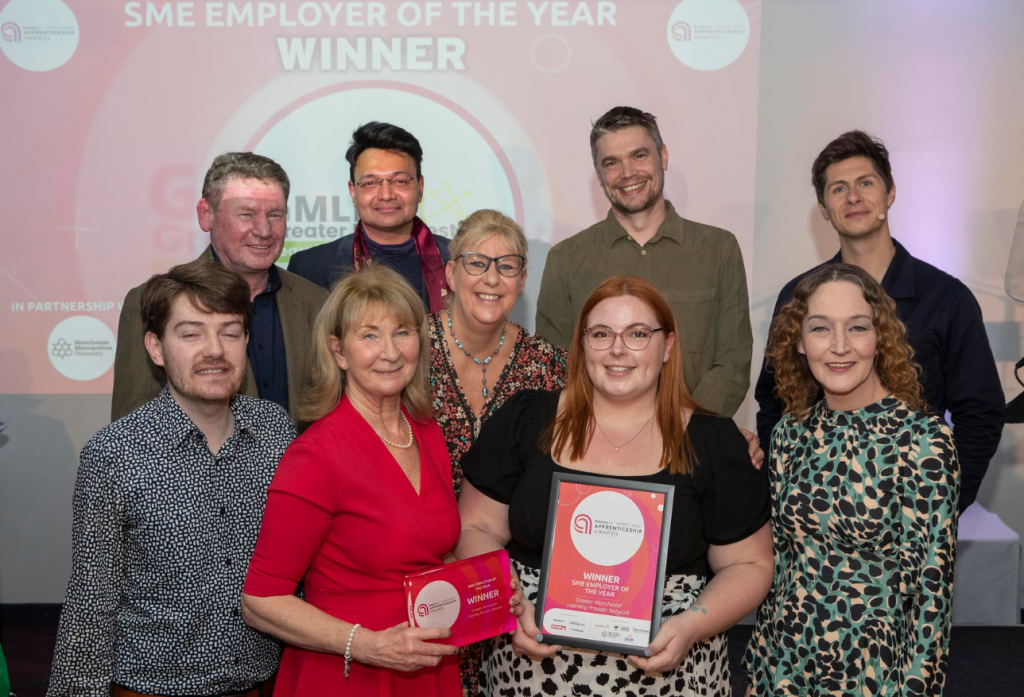 Anne Gornall MBE, Executive Director at GMLPN said:
"GMLPN see promoting apprenticeships as a key priority and this award recognises the hard work of our team. Thanks to support from our Board and Advisory Board, our partners and of course our members who deliver over 70% of all apprenticeships across Greater Manchester."
Charlotte Jones highly commended in 'Apprentice of the Year – Public Services & Education'
Additionally, GMLPN's Operations/Project Manager Charlotte Jones, a Chartered Management Degree apprentice with Manchester Metropolitan University, was highly commended in the Apprentice of the Year – Public Services and Education category.