Peninsula
Peninsula is the UK's most trusted employment law and health & safety consultancy.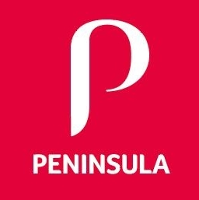 Peninsula help more small business in the U.K than anyone else, taking care of the details and leaving you free to see the big picture.
Every business should be built from a firm base, we will make sure that you have strong procedures, policies, systems and documentation and the confidence you're getting the top professionals in their fields. Our advice, online management system and training sessions will ensure you're getting the full potential and productivity out of your employees, motivating them to make a real difference to your business. Should you become involved in an employment tribunal, which is often unavoidable in today's no fee climate, we will prepare and represent you at the hearing, and pay legal expenses and the compensation awards if the case is lost.
Peninsula also have partnerships department for you and your clients, where we can provide our help and expertise to your own client base. By providing extra help and advice to your clients when they need it most, you'll find your clients are more loyal and value the service you provide, it can also set you apart from your competitors. It's widely accepted that although staff are certainly a company's biggest asses, they can also be the biggest headaches in running a business.