The Greater Manchester Learning Provider Network (GMLPN), North Yorkshire Learning Providers (NYLP) and West Yorkshire Learning Providers (WYLP) are excited to mark Mental Health Awareness Week with the launch of WellFest 2021.
Mental Health Awareness week takes place from 10 May – 16 May, with the theme of the week being nature and how nature helps mental health and wellbeing. You can find out more about the awareness week here.
WellFest
The WellFest virtual conference is aimed at work based learning tutors and practitioners, and will provide them with a virtual 'get away; day covering not only CPD but also support for positive wellbeing practices, sharing lessons and successes, coping mechanisms for stress, caseload management and overall help to maintain mental wellness.
"WYLP held the first WellFest last year during the pandemic to support our members with their own mental wellbeing & from that success we wanted to make WellFest21 even better, reaching a wider audience so they can benefit from the fantastic speakers & guests we have on offer. We therefore joined forces with our network colleagues across the Pennines to bring this year's festivities – with GMLPN onboard we know WellFest21 will be a great event and we look forward to seeing you all there"
Alex Miles | Managing Director | WNYLP
'It's great to be working with WYLP and NYLP on WellFest 2021- a festival for Wellness. Mental Health and Wellbeing is priority for us and our members – to support staff and learners – and we are excited to explore some of the mental health challenges and solutions at the conference.'
Anne Gornall | Executive Director | GMLPN
The conference will take place on Thursday 17 June 2021 from 9:30-15:00.
The Challenge
The coronavirus pandemic has put mental health at the forefront of everyone's minds and given us all an opportunity to be open about the way in which mental health affects us and those who we work with.
Mental Health in the Further Education sector is particularly an issue:
FE lecturers stand out with high levels of anxiety and the lowest levels of positive wellbeing among educators (reference)
1 in 4 people experience mental health issues each year (reference)
At any given time, 1 in 6 working-age adults have symptoms associated with mental ill health (reference)
At WellFest 2021 we will explore some of the causes and solutions to the mental health challenge within the Further Education sector.
Sponsors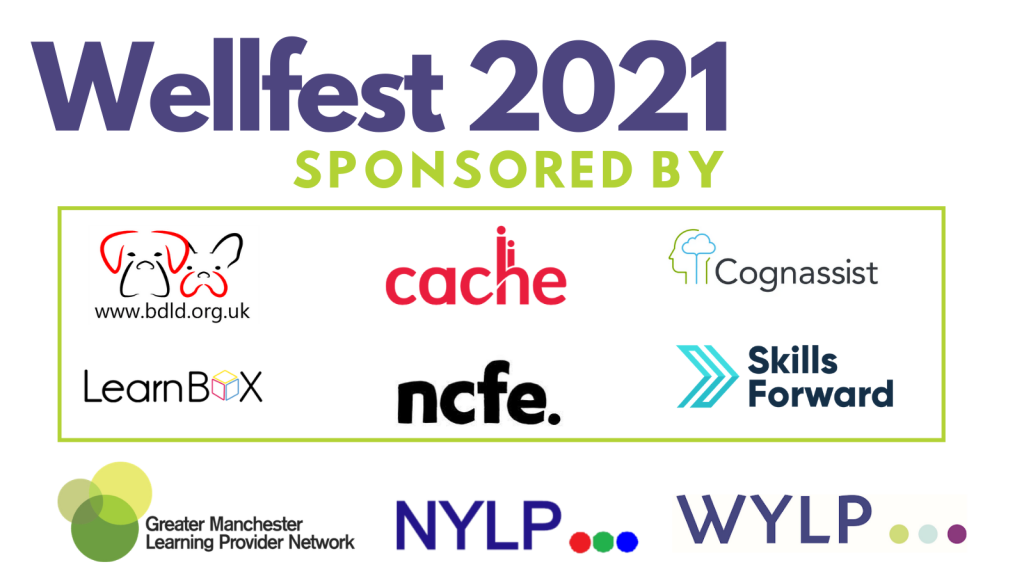 GMLPN, NYLP and WYLP are excited to announce that WellFest 2021 will be sponsored by NCFE, Cache, Cognassist, LearnBox, Skills Forward and BDLD.
Agenda
The agenda will include input on nutrition, best practice from practitioners in the FE Sector and an apprentice's perspective on mental health in apprenticeships.
NCFE will tell us about their work with Fika and their innovative mental fitness app to improve outcomes for your students and staff.
Make sure you follow GMLPN, NYLP and WYLP on twitter for more announcements about WellFest 2021.
Tickets
To book a place at WellFest 2021 please visit here. Apply the promotion code WELLFEST30 on tickets for a £20 discount from Monday 10 May – Friday 14 May in celebration of Mental Health Awareness Week.