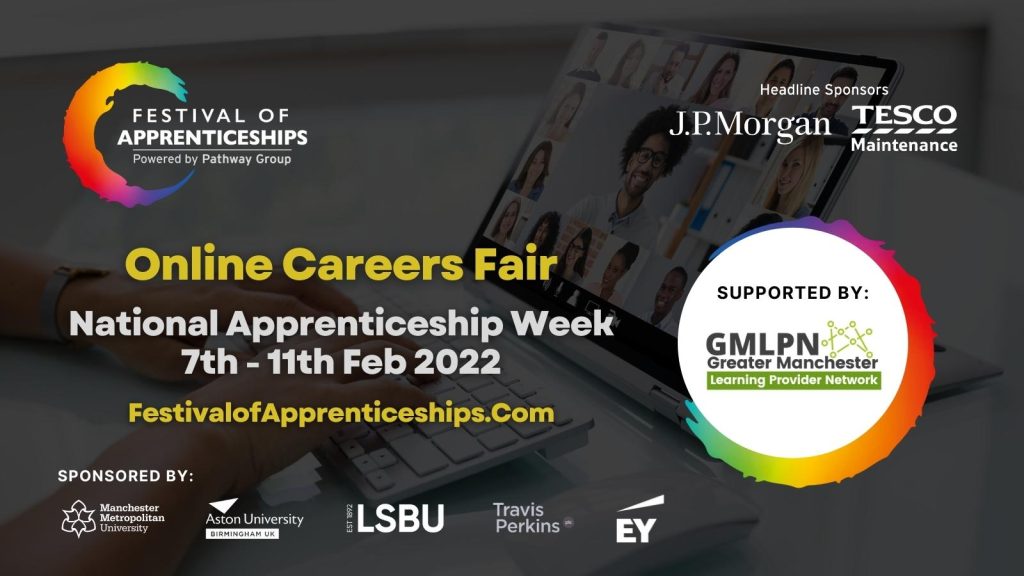 The Festival of Apprenticeships powered by Pathway Group will be taking place next week to mark Nation Apprenticeship Week. More than just an online conference, this FREE event is a one-stop shop for anyone looking to find out more about apprenticeships. From discovering opportunities with organisations first-hand, through to guidance on how to apply for and make the most of an apprenticeship, the festival will cover all!
With top employers and learning providers highlighting their talent and promoting opportunities to future apprentices, the event will serve as a showcase of excellence in the sector! The Festival of Apprenticeships is an event that advocates, promotes and celebrates Apprenticeships. This is no ordinary Careers Fair; this is celebratory event that not only promotes the value apprenticeships can deliver for young people, but also gives them the knowledge and expertise about how to apply for the right one for them.
The Online Event will be series of daily online webinars hosted by various employers and learning providers who will showcase their apprenticeship opportunities. Each session will be 30 minutes long and will be made up of a 20 minute presentation and 10 minutes Q and A. Students, Parents and Careers Advisors can join these webinars live or watch them back on catch up.
Sessions will be run by a range of different employers including, EY, Travis Perkins, Rolls-Royce, Met Police, the BBC and many more. To register please click on the link below:
https://www.crowdcast.io/e/festival-of-apprenticeships/
The Festival of Apprenticeship Roadshow sponsored by JP Morgan and Tesco maintenance was due to take place in person next week, however due to the increase in corona virus cases the roadshow events will take place on the following dates:
30th June – London – Kia Oval
4th July – Manchester – MMU Business School
8th July – Birmingham – Millennium Point
Four reasons why you should encourage students to attend:
Find out what Apprenticeships are and how to apply.
Find out about different types of apprenticeships and which companies offer them.
You can't be what you can't see, meet Apprentice Role Models.
This could change their life.
This event will help your school to address gaps in Gatsby benchmarks as well as compliance with the Baker Clause.
If this is something you would like to bring your students to please register your interest to attend by clicking on the link below: https://festivalofapprenticeships.com/
If you would like to find out more, please contact Kasim Choudhry on Kasim.choudhry@pathwaygroup.co.uk