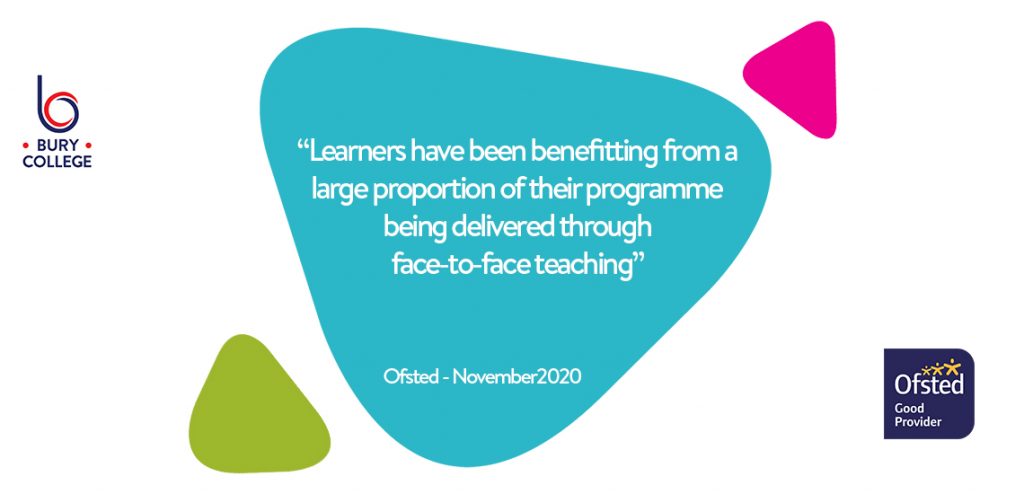 Bury College has been recognised by Ofsted, parents and stakeholders for maintaining a "responsive and resilient" attitude throughout the COVID-19 pandemic.
Over recent months, the College has worked hard to create a safe learning environment to ensure face-to-face teaching could continue and this has been recognised during a recent interim Ofsted visit. Leaders are delighted that Ofsted highlighted the College's "responsive and resilient attitude during the pandemic" and that teachers have created a "culture of support and camaraderie".
Ofsted commented on the fact that "leaders responded quickly to the disruption to learning caused by COVID-19 restrictions" and appropriate measures were implemented to deliver online learning. The College was proud to provide a "wide range of support to learners during the Covid-19 restrictions" with tutors posting workbooks to learners and using a variety of methods to teach learners effectively online.
Bury College has maintained a student-focused ethos throughout the COVID-19 pandemic. Ofsted recognised how the College's safe learning and student-centred approach has seen learners "benefitting from a large proportion of their programme being delivered through face-to-face teaching".
Apprentices and valued employers were also supported during this time and the curriculum was adapted to assist those apprentices who had been furloughed. All apprentices received "regular support from learning and skills coaches". Becky Tootell, Bury College Deputy Principal, said, "We are extremely proud that our focus on prioritising the needs of our students in a safe and supportive way has been recognised by Ofsted. Throughout COVID-19, the entire Bury College community has come together to support all our learners and to ensure that they have received the learning