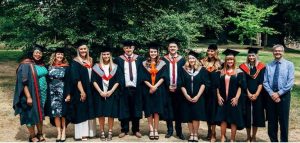 The Growth Company are proud to announce and looking forward to celebrating with their BA Hons Top up Business Management students at their graduation in November this year. The Staffordshire University graduation ceremony is held at the stunning Trentham Gardens venue. They were meant to be graduating in July which has been postponed because of the current lockdown measures for COVID-19. They will make sure that the delay just increases the celebrating that will eventually take place! All the students have done so well and amongst those graduating they are delighted to recognise particularly high achievements of the three First class Honours and three 2:1 degrees.
The degree is designed to help learners to become good decision-makers, problem-solvers, communicators and team-players – all skills which are essential for successful business management and leadership.
This is their fifth class of graduates with Staffordshire University, the course has already made a huge difference to the lives and career prospects of our students.
Chris Chambers had been out of the education system for more than 20 years, but despite this, he is one of the students who achieved a first class honours – and he has even gained a promotion thanks to his degree.
He said: "I found the learning environment and course format perfect for my needs. The tutorage from 'real-world' business leaders means my degree is relevant and delivered in authentic business settings, and as such can immediately be put into practice."
"Being back in the classroom after many years, the course has allowed me to develop new learning techniques. I have now re-ignited my thirst for personal development. Having secured a promotion as a direct result of the degree programme, I'm looking forward to taking my personal and professional development further with a master's degree in the near future."
Chris isn't the only graduate who has furthered his career thanks to his degree. Wallis Siketi has also secured three promotions – two of which being managerial positions – as a result of the skills and knowledge she's gained from the course.
Speaking of her journey, Wallis said: "I didn't go further with education when I left college as I felt I needed a break from the classroom. I am glad I came back older and more mature as even though it was hard, I have had an amazing three years and met some amazing people. I have learnt so much and have been able to put my new skills and knowledge to practice, leading to me getting three promotions with two of them being managerial roles."
"The tutors have given us all amazing support and help whenever needed, and they have been a personal inspiration to me! Finishing with a first proved to me that I am capable of accomplishing what I want to do and I am very excited for what the future brings!"
Fellow student Charlotte Vernon also added: "I've thoroughly enjoyed my time studying with The Growth Company! Lecturers have been supportive and motivating which has helped me gain a first class honours degree, enabling progression within my career."
Hopefully when they attend graduation in November we'll have an equally as happy graduation photo like below, perhaps not as sunny but long awaited!
We wish the class of 2020 all the best while they wait patiently to celebrate and look forward to hearing their good news stories!