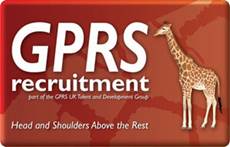 GMLPN are delighted to be partnering with GPRS Recruitment as our preferred recruitment provider.
GPRS is a Work Based Learning and Training Recruitment Specialist, they operate nationally and have a client portfolio that consists of large national training providers and smaller independents.  GPRS is IIP Gold Standard and is an IIP Champion.  It is also one of a very small percentage of recruitment companies who are audited by the recruitment industry regulatory body, the REC.
In response to GMLPN's members problems recruiting quality staff, we chose to partner with a recruitment company that specialised within the work based learning and training sector.  The rationale behind this was to ensure when members appointed GPRS to recruit staff for their company, the agency would be au fait with the job titles, skills and qualifications so the candidates that are introduced will accurately match our members' brief.
As part of the partnership GPRS is going to support GMLPN in the following ways:
Reduced introductory fee and a three month replacement guarantee should a candidate prove to be unsuitable or leave within 12 weeks of joining your company
Workshops relating to recruitment and selection, performance management, induction etc.
Contributing to GMPLN's newsletter
Supporting at networking events
The workshops and newsletter copy will be drawing on the experience of Sarah Burns, Managing Director and Helen Wilson, Sales Director at GPRS.  Sarah was one of the founder members of GPRS and has a wealth of experience in the effective management and efficient operating and accounting systems of a small company, which have helped GPRS win many national awards and IIP Gold Accreditation.
Helen has over 20 years' recruitment experience and has recruited at all levels and across many sectors.  She has professionally trained in recruitment and selection as well as management and leadership with the Chartered Institute of Personnel and Development.
Talent Acquisition within Work Based Learning & Training in 2017
The Workbased Learning & Training sector is buoyant.  Therefore many companies are recruiting and this is clearly demonstrated by one of the job boards recently advertising 7,300 new assessor vacancies.  Whilst the amount of vacancies is set to increase, the talent pool of candidates is set to shrink as more and more candidates are being snapped up to meet the manpower needs of busy training providers.
What this means to companies who are looking to expand their workforce is that the candidate is in the driving seat, as they have many opportunities available to them, and they have begun to be more selective about where they wish to work.  The same is true of learners too.
Savvy employers will also be looking at putting strategies in place to retain their existing staff to prevent them being poached by their competitors; as the hidden and obvious costs of replacing a member of staff are considerable.  Our workshops will look at some of the practical things you can do to help retain your company's most important asset – its people.
The REC (the Recruitment & Employment Confederation), the recruitment industry governing body, anticipated the increase in vacancies and the reduction in the size of the talent pool of available candidates, and undertook a project to research into what candidates were looking for when changing careers.  The findings of this project are publicised in the Good Recruitment Campaign and many of the workshops GPRS will deliver to GMLPN members will incorporate elements of this.
Some of the companies who have signed up to the Good Recruitment Campaign are: B & Q, Eddie Stobart, DHL, Tesco, Asda, Panasonic, etc.
Brand Image and The Good Recruitment Campaign
One of the driving factors behind why so many larger companies have signed up to the campaign is based on brand image.  Years ago, if you had a bad recruitment experience such as, attending an interview and not receiving feedback as to whether you were successful or not, or your interview was conducted by an incompetent, unprofessional interviewer, you would probably tell your family and a couple of friends; your bad press reached maybe the maximum of 10 people.  Now with the internet and social media the reach of bad press extends to 100's of people.
Social Media has far reaching effects.  Research has shown that if a number of candidates publicise their bad experiences this will have a negative effect on a company's brand image, which is likely to result in people choosing not to apply for jobs with them. Companies have seen the impact on their sales as a result because people don't want to buy from a company that treats its staff poorly.
Sadly, some companies have this negative image already and when we call candidates to discuss a role, once they hear the company name they tell us they don't wish to apply as the company has a poor reputation.  The Good Recruitment Campaign is all about creating a positive recruitment experience for all candidates, even if they are unsuccessful in their application.  There are several companies that, unfortunately, GPRS don't recruit for any longer because we simply can't get candidates interested due to a company's poor brand reputation.  Research shows that 25% of people recruit through word of mouth and that 20% of people have advised another not to apply for a job due to a bad experience they had.  When asked, 56% of candidates said they would definitely share a negative experience with their audience, yet only 28% of candidates said they were likely to share a positive experience.
To put that into perspective, GPRS's database of work based learning and training candidates currently stands at 55,000.   If 56% of the 55,000 (30,800 candidates) shared a negative experience to 100 people within their social media network, that is over 3 million  negative comments flying around in cyberspace.  Whilst that example is a bit extreme, you get the picture.
This reputation can extend to your learners who, like your employees, are the life blood of your business and without them you have no business. Hopefully, many of the things we discuss will help you create a positive experience for learners too.
References:
GPRS Recruitment:
The Good Recruitment Campaign:
https://www.rec.uk.com/good-recruitment-campaign
The Candidate Strikes Back Report:
https://www.rec.uk.com/news-and-policy/research/latest-research/the-candidate-strikes-back